The Airport Influence Zone (AIZ), referred to by Adams County as "Aviation District" protects future residential development from adverse noise and insures the compatible use of land. The AIZ is overseen by the appropriate city and county planning & development department. The AIZ has been adopted by Adams County and is in process of being adopted by Arapahoe County and the City of Aurora. The AIZ includes two restriction areas, described below.
Airport Influence Zone (AIZ)
All residential structures built within the AIZ shall provide to Adams County:
Maps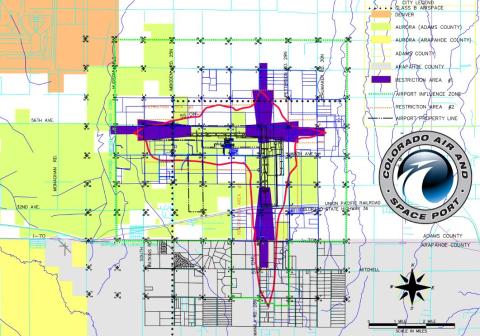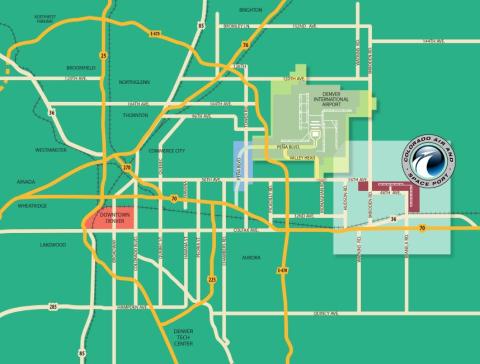 Restriction Area One
Limited commercial and industrial structures are permitted within Restriction Area No. 1, which do not conflict with the operational and safety needs of the airport:
Structures must meet Part 77 Requirements.
Structures must meet Noise Level Reduction where the public is received, shall provide and include noise level reduction measures in the design and construction to achieve an interior noise level reduction of 25 decibels in A-weighted levels.
Limited commercial means structures will not be used as gathering places for a large number of people i.e. movie theater, strip mall, bowling alley, etc.
Operational and Safety needs means dust, smoke, emissions, lights or other obstructions to navigation.
Adams County Community & Economic Development will consider input from Colorado Air and Space Port as to the compatibility of all proposed structures within Restriction Area No. 1 prior to approving a proposed development.
Restriction Area Two
Prohibits the construction of residences except that existing residences may be occupied and new homes may be built on lots platted prior to the adoption of this overlay district (August 1983).
Airport Influence Area - Arapahoe County
Part 1 Zoning Regulations Section 3400 Overlay District