Reaction Engines Begins Construction of High-Temperature Airflow Test Facility in Colorado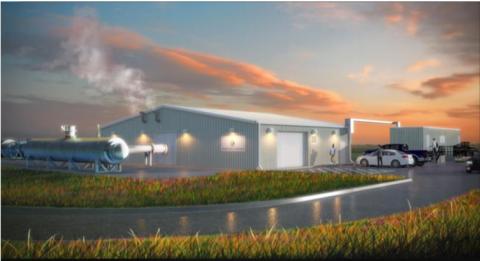 Posted on: June 3, 2019
Reaction Engines, Inc. has begun construction of a new high-temperature airflow test facility where it plans to validate the performance of its precooler heat exchanger technology, an enabler of its revolutionary SABRETM engine. Located at the Front Range Airport near Watkins, Colorado, the test facility will be capable of exposing the precooler test article (HTX) to high-temperature airflow conditions in excess of 1800°F (1000°C) that are expected during high-speed flights up to Mach 5.
Reaction Engines, Inc. recently received a contract award from the Defense Advanced Research Projects Agency (DARPA) to conduct the HTX tests, which are designed to build upon previous successful testing of the precooler heat exchanger at ambient temperature conditions.
"This new test facility shows our commitment to rapidly prove our precooler technology in the most compelling test campaign possible," said Dr. Adam Dissel, President of Reaction Engines Inc. "The facility's ability to deliver controlled temperature profiles over flight-like run durations at significant airflow represents a unique capability that can fill additional testing demand beyond HTX."
The project is an additional investment by Reaction Engines into ground test facilities. The company is progressing rapidly on the previously announced TF1 engine test facility in the United Kingdom where the first ground-based demonstration of its revolutionary SABRE™ air-breathing rocket engine will take place. The Colorado test facility, named TF2, consists of a test building and a control room located on the east side of the Front Range Airport. The hot air for the testing will be provided by a modified afterburning jet engine configured to produce a wide range of flowrates and temperatures.
"We are tremendously excited that Reaction Engines is locating their new engine test facility here at Front Range Airport and, as the future site of Spaceport Colorado, the linkages between high-speed aviation uses and the commercial space applications for this new technology are a perfect fit," said Dave Ruppel, Front Range Airport Director. "Reaction Engines has been outstanding to work with and we are looking forward to being a small part of their ongoing success."
Colorado has a long history as a leader in the U.S. aerospace sector, and provides a supportive and capable location for Reaction Engines' expanding U.S. activity.
"Colorado is a leading aerospace state known for our innovative businesses that propel our growing aerospace economy," remarked Jay Lindell, representing the Colorado Office of Economic Development and International Trade. "We are proud to have Reaction Engines in Colorado at the Front Range Airport and look forward to supporting their test operations that will lead to future cutting-edge propulsion technology."
Once TF2 achieves full operations, and following the completion of HTX testing, the company plans to make the facility available to industry, technology developers, and universities who could benefit from the facility's unique test capabilities